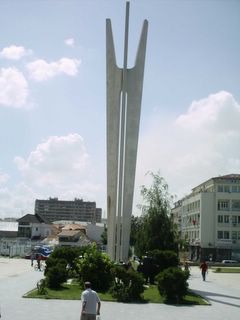 Sculpture 1: this is, as far as I can tell, a Communist victory monument; in style, it resembles the Communist victory
monument
in Mitrovice.
[Updated on the 14th of January 2007]
As the sculpture in Mitrovice/Mitrovica turned out to be a monument to mining, rather than victory, so Han_Solo commented that:
This is a monument from communist era, but it is not any "vicotry" monument. It represents Brotherhood and Unity of all nationalities living in former Yugoslavia, ideals spread by Tito (which, by the way kept the same national groups of former Yugoslavia in peace for more than 50 years, the longest in modern history).